April 2019
It looks clear that 2019 will be a challenging year for the consumer. The daily headlines on falling house prices, declining car sales, tightening credit, election uncertainty and regulatory changes are having a reinforcing loop. As always, but particularly in such an environment, we've looked to tilt the portfolio away from poorly positioned consumer-exposed stocks. What does poorly positioned mean? Companies that sell goods and services that are easily interchangeable or are in a highly competitive industry. An example of a company that is not poorly positioned is Bunnings (owned by Wesfarmers) – sure, sales growth is slowing but it dominates the hardware segment in Australia and will be untouched by disruption (technological and regulatory).
The balance to this view, though, is that a lot of consumer-facing stocks are looking attractively priced – sometimes up to a 50% valuation discount to the broader market averages. So there are opportunities. Analysing industry structure is how we identify those businesses that should be more resilient in a weaker domestic economy.
One such opportunity is oOh!Media, an outdoor advertising company. The stock has sold off on concerns around advertising spending, which are cyclical and consumer-sentiment driven. However, the outdoor media industry is taking a larger share of the broader advertising market, averaging 9% growth p.a. for the 10 years to June 2018. Outdoor is boosting its reach thanks to digital billboards and because it is an advertising medium that is retaining its audience, allowing it to offer attractive "reach" to advertisers, particularly against free-to-air TV and print that are experiencing audience fragmentation or decline. Generating 47% of outdoor industry revenues, oOh!Media is the market leader and is well placed to capitalise on gains in market share.
Further, we like the market structure, with the market recently consolidating from four main players to two, after oOh!Media acquired Adshel and competitor JC Decaux bought APN Outdoor. As a result, we think the industry is set to become more rational. We've yet to see an industry go from four players to two and see pricing get worse. Trading on eight times enterprise value over earnings before interest, taxes, depreciation and amortisation versus transaction comps and international peers on 10 times, the valuation in our view is yet to reflect an improving industry structure and long-term structural tailwinds for outdoor.
Another stock that we expect to perform well in a softer environment is Qantas Airways. The Qantas first half result for fiscal 2018, while at first glance looked ho-hum as profit was down, showed the incredible strength of its franchise. Battling a fuel cost increase that on its own would have led to a halving of profit (see chart below), the company was able to pass all the fuel cost increase through to customers.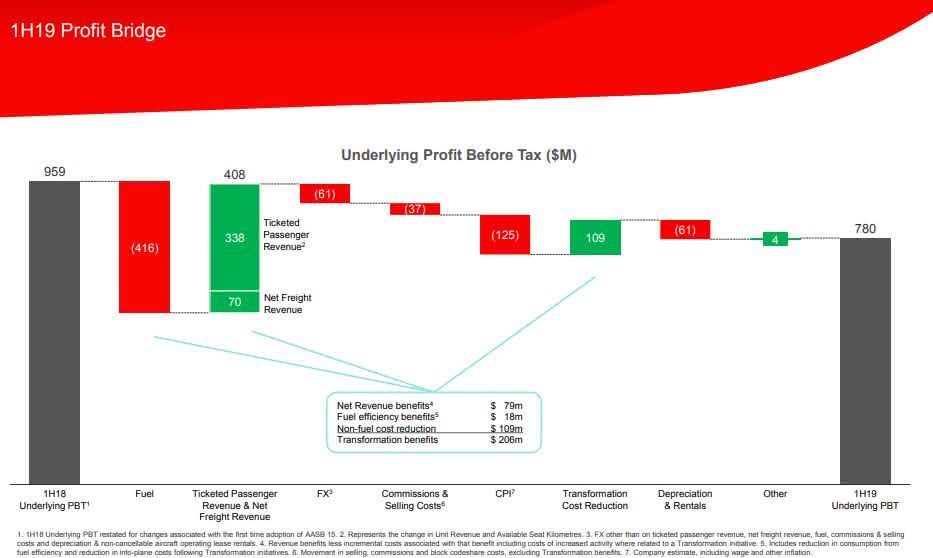 Source: Qantas presentation, 2019.
Since the end of the capacity war with competitor Virgin five years ago, Qantas has experienced a golden run. The shares are up from $1 to $5.60; the balance sheet is strong; dividends have been re-instated; and more than 25% of the shares on issue have been bought back – a remarkable turnaround. Can it continue? We think it can (subject to the usual caveats re consumer demand, oil prices and competitor behaviour) for the following reasons:
The pincer movement Qantas has put on Virgin with Qantas mainline and Jetstar encircling the premium and budget market thus allowing Qantas to achieve more than 60% market share but more than 90% profit share.
The remaking of international routes and alliances, which should make blowout losses a thing of the past.
The strength of the loyalty program (more than 10 million members) resulting in consistent delivery of about 25% of Qantas's total profit.
Much can go wrong in an airline business but as we study the industry globally we are hard-pressed to find a company that has the unique advantages possessed by Qantas. The share price values Qantas as if it were no better than most global comparables with a price-earnings ratio (PE) of 9 times. If returns can be maintained, we believe Qantas could justify a PE ratio of 12 times, putting it on a similar valuation to premium-rated airlines such as Southwest Airlines (US) and Ryanair (Europe).
While Qantas and oOh!Media have sold off to low PE multiples of 9 times and 13 times respectively versus the broader market average PE of 17 times, we believe their improving industry structures should drive resilient profitability in the face of a weaker domestic consumer. We own both in the Airlie Australian Share Fund.