During the period, our analyst Vinay Ranjan visited Perth to attend a briefing and site tour of the Wesfarmers Chemicals, Energy and Fertilisers ('WesCEF') business.
A key observation from the trip was the scale and market position Wesfarmers has built in chemicals processing. For those not familiar, Wesfarmers owns and operates a collection of world-class facilities in Kwinana including (but not limited to): 3 x nitric acid ammonium nitrate ('NAAN') plants, ammonium nitrate prill & emulsion plants, an ammonia plant, 2 x sodium cyanide plants and 1 x sodium cyanide solids plant.
These assets have positioned Wesfarmers as the #1 player in both the Western Australian ammonium nitrate and sodium cyanide markets predominantly supplying the mining industry.
The historical cost of most of these assets is well known:

• 1989: Sodium Cyanide plant 1 = $25m
• 1996: NAAN plant 1 = $83m
• 1998: Sodium Cyanide plant 2 = $30m
• 2000: Ammonia plant = $165m
• 2001: Sodium Cyanide solid plant = $26m
• 2007: NAAN plant 2 = $400m
• 2015: NAAN plant 3 = $500m

However, what's more interesting for investors is the replacement cost of these assets today. If we take sodium cyanide as an example, US-listed Chemours constructed a 50kt sodium cyanide plant in Mexico in 2018 for US$150m. If we apply this to Wesfarmers' sodium cyanide capacity of 95kt we get a valuation in excess of A$400m (vs historical cost of A$55m).
These assets are also advantaged because of their access to low-cost Western Australian gas that is a key feedstock for both ammonia and sodium cyanide. Over time we expect this to be a key source of competitive advantage and could open up opportunities for Wesfarmers to increase supply to the East Coast and offshore markets.
Indeed, Wesfarmers' have flagged multiple opportunities to expand capacity at their existing plants including:
• Increasing ammonia production capacity from 270ktpa to 570ktpa
• Increasing sodium cyanide production capacity from 95ktpa to 130ktpa
• Increasing ammonium nitrate production capacity from 825ktpa to 945ktpa
We expect each of these to meet market demand and deliver positive incremental returns.
Mt Holland – Lithium mine
The central focus of the investor briefing was the Covalent Lithium project, which is a 50/50 joint venture between SQM and Wesfarmers comprising the Mt Holland lithium deposit, spodumene concentrator and a hydroxide refinery located in Kwinana.
The Mt Holland deposit is a high-quality asset with a significant resource life (186mt) at a high grade (1.53% Li2O) compared to other lithium deposits. These qualities place it in the top 5 discovered hard-rock lithium assets globally (see figure 1).
With the concentrator now >85% complete and mining commenced, Wesfarmers are guiding to first production of spodumene concentrate later this calendar year. While the capital costs for the project have been higher than expected due to pandemic delays and labour pressures, spodumene prices are trading multiples above those considered when Kidman Resources first released its pre-feasibility study in December 2018 (US$475/t) at over US$4,000/t at the end of March.

Figure 1: Mt Holland is a top 5 global hard rock lithium resource.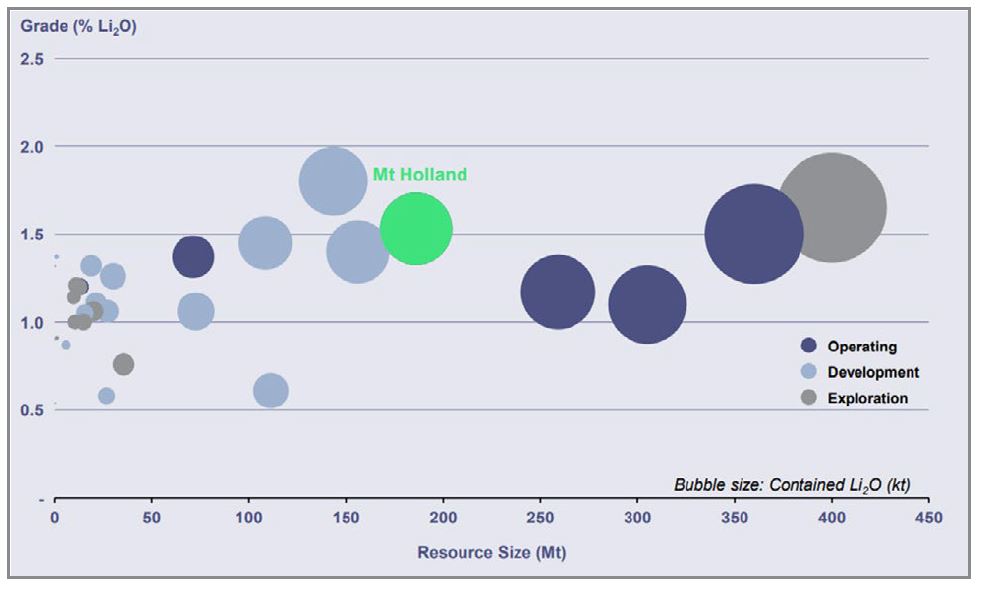 Source: www.wesfarmers.com.au/docs/default-source/asx-announcements/wescef-investor-briefing-and-site-tours
As figure 2 illustrates, Wesfarmers have an excellent track record of deploying capital in this division and periods of elevated capex have been followed by increased earnings and spikes in return on capital. We expect the next few years to be no different as these lithium assets come online.
Figure 2: WesCEF track record of capital deployment generating high returns.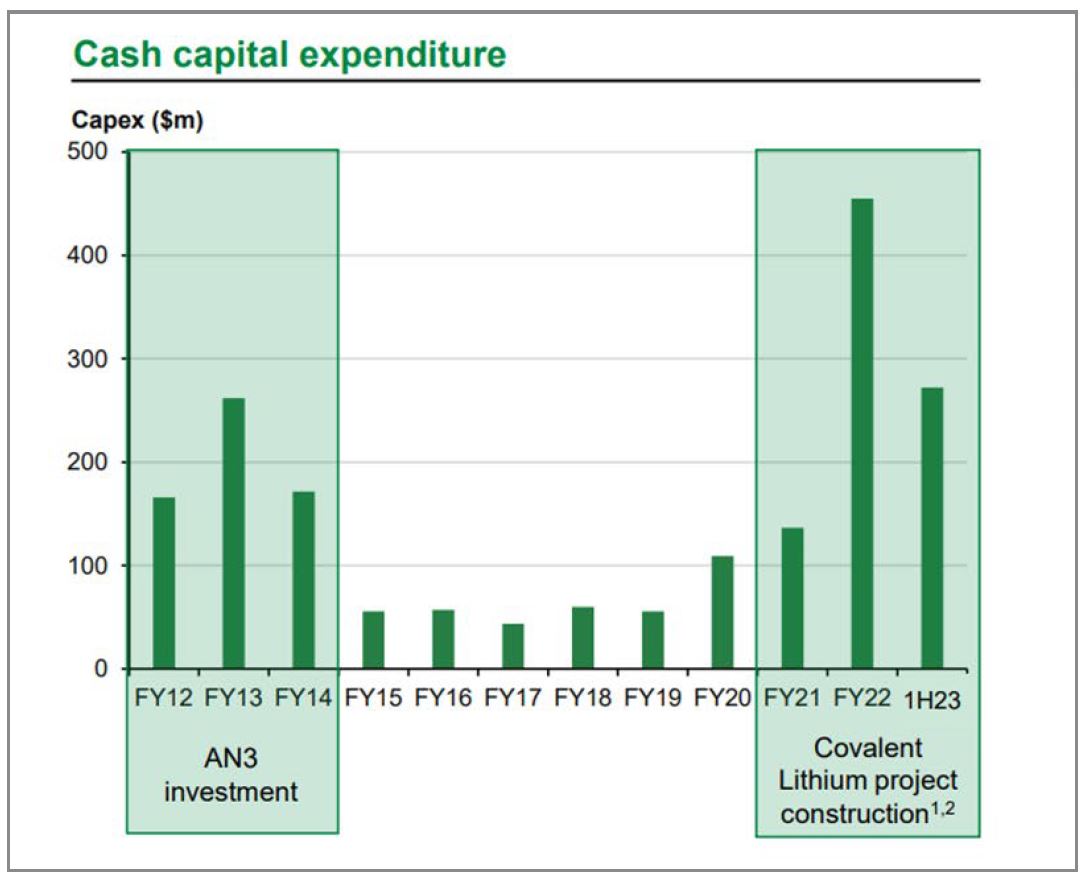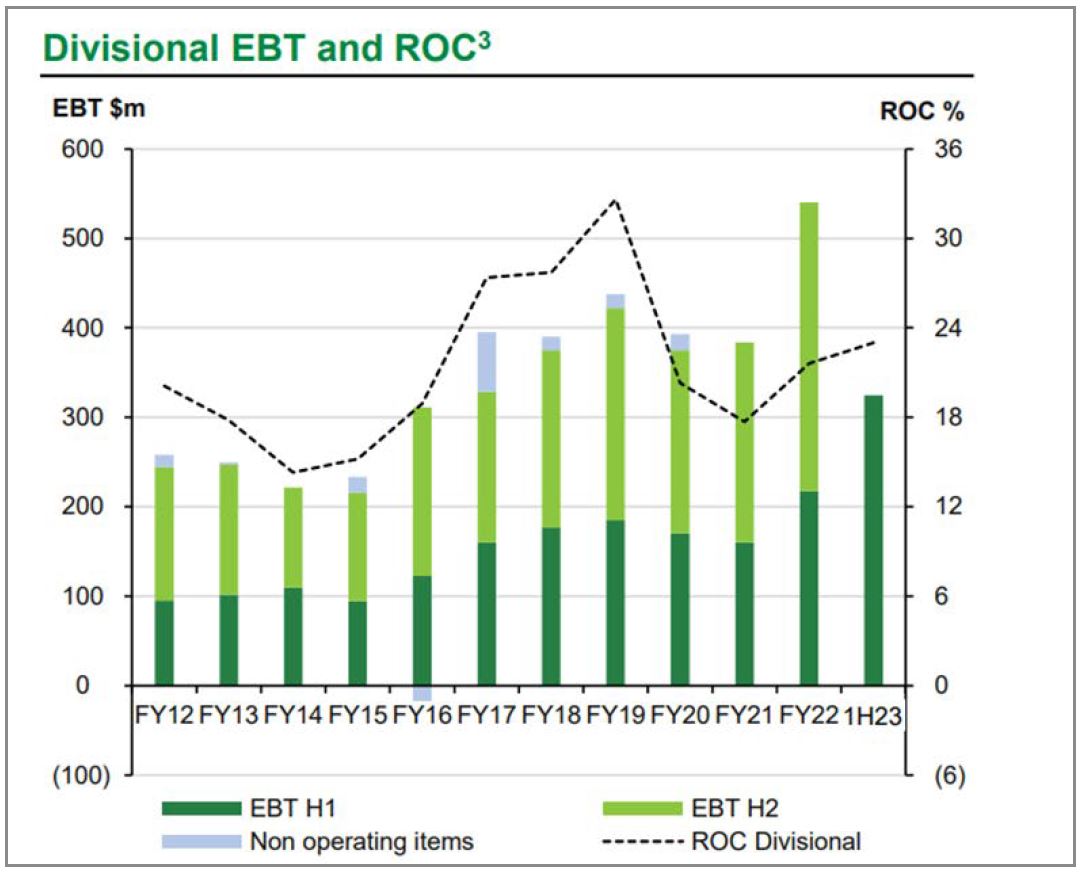 Source: www.wesfarmers.com.au/docs/default-source/asx-announcements/wescef-investor-briefing-and-site-tour
By Vinay Ranjan, Investment Analyst